14 AMAZING CONCERTS
All Musical Acts are Performing at Universal Studios Florida (select nights) between Feb. 6 – April 16, 2016.
Each night of Universal Orlando's Mardi Gras, a different big-name headliner from the worlds of pop, rock, country, and R&B will get the party started—playing their biggest hits and favorite tunes live on stage.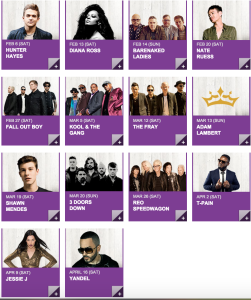 Mardi Gras 2016 Concert Lineup:
Feb. 6 (Saturday): Hunter Hayes
Feb. 13 (Saturday): Diana Ross
Feb. 14 (Sunday): Barenaked Ladies
Feb. 20 (Saturday): Nate Ruess
Feb. 27 (Saturday): Fall Out Boy
March 5 (Saturday): Kool & The Gang
March 12 (Saturday): The Fray
March 13 (Sunday): Adam Lambert
March 19 (Saturday): Shawn Mendes
March 20 (Sunday): 3 Doors Down
March 26 (Saturday): REO Speedwagon
April 2 (Saturday): T-Pain
April 9 (Saturday): Jessie J
April 16 (Saturday): Yandel
The Mardi Gras concerts, parade and French Quarter music are included with your Annual Pass or Universal Studios® Admission.
Visit Universal Studios website for more info: www.universalorlando.com